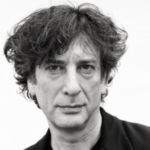 Neil Gaiman
Neil Gaiman is a New York Times bestselling author, and creator of many novels and graphic novels including Neverwhere (1995), Stardust (1999), the Hugo and Nebula Award-winning American Gods (2001), and Good Omens (with Terry Pratchett, 1990). Other works include the Sandman series and the dark fantasy novella Coraline (2002), which was adapted into the 2009 stop-motion film directed by Henry Selick. Gaiman also writes short fiction, screenplays and picture books for young readers.
Interviews with Neil Gaiman
In his latest book, fans from around the world chose which of Neil Gaiman's writings they liked the best, a great introduction to his writing for anyone not familiar with his work. Here the prolific, genre-bending author recommends some of his own favourite books: comfort reads to turn to in difficult times.
Interviews where books by Neil Gaiman were recommended