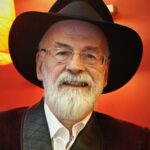 Terry Pratchett
Terry Pratchett was a prolific author of fantasy books. He died in 2015 after suffering from Alzheimer's. At 13 he had his first story published and he has now sold over 85 million books worldwide, in 37 languages.
Terry Pratchett was best known for his Discworld series of 41 books. The first Discworld novel, The Colour of Magic, was published in 1983. He won the 2001 Carnegie Medal for his Discworld children's book The Amazing Maurice. According to Stuart Turton (when we interviewed him about the best murder mystery books) the best Discworld book is Night Watch.
Interviews where books by Terry Pratchett were recommended
The best murder mysteries set up their stories like a game between the reader and the writer, says Stuart Turton, bestselling author and lifelong mystery fan. Here he highlights five of his favourites, in which detectives make miraculous deductions, or doggedly chase clues until they meet with satisfying solutions.
Marine biologist Helen Scales reflects on the power of stories to bring all kinds of readers into the ocean realm. She recommends books for children and young adults, and explains why her selection focuses on novels for readers age 10-14.