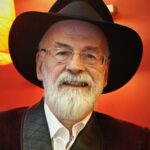 Terry Pratchett
Terry Pratchett was a prolific author of fantasy books. He died in 2015 after suffering from Alzheimer's. At 13 he had his first story published and he has now sold over 85 million books worldwide, in 37 languages.
Terry Pratchett was best known for his Discworld series of 41 books. The first Discworld novel, The Colour of Magic, was published in 1983. He won the 2001 Carnegie Medal for his Discworld children's book The Amazing Maurice. According to Stuart Turton (when we interviewed him about the best murder mystery books) the best Discworld book is Night Watch.
Books by Terry Pratchett
"Terry Pratchett is a master world builder. This is a standalone book, not part of his Discworld series, and it's an absolute joy to read. I'm a big fan of all Pratchett, and for me Nation stands out because it is so oceanic in its topic, in its breadth and in its storytelling. It's an alternative history set in the Great Southern Pelagic Ocean. It's a book about cultures coming together and learning from each other. It's about environmental disasters, and how people adapt and cope with them. It's incredibly rich with details of the world that we're exploring, a realistic but slightly different version of our world. The characters are glorious, and it's a brilliantly funny book but deeply thoughtful as well, which is what you always get from Pratchett." Read more...
The Best Ocean Novels for 10-14 Year Olds
Helen Scales, Biologist
"This book is Pratchett at his best for me. It's a really solid thriller. It's a fantasy. It's also a time travel book. It has all these meta levels – it's almost a love letter to his own readers." Read more...
Stuart Turton, Novelist
I enjoy reading Good Omens more than reading anything else I've done because I laugh at all the bits that Terry Pratchett wrote. I get to appreciate Terry's genius and the mingling of our efforts into something greater.
Comfort Reads recommended by Neil Gaiman
***Winner of the 2001 Carnegie Medal***
The first of Terry Pratchett's Discworld books. There are another 40 of them in the series.
Interviews where books by Terry Pratchett were recommended
The best murder mysteries set up their stories like a game between the reader and the writer, says Stuart Turton, bestselling author and lifelong mystery fan. Here he highlights five of his favourites, in which detectives make miraculous deductions, or doggedly chase clues until they meet with satisfying solutions.
Marine biologist Helen Scales reflects on the power of stories to bring all kinds of readers into the ocean realm. She recommends books for children and young adults, and explains why her selection focuses on novels for readers age 10-14.