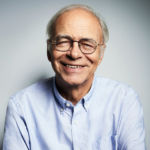 Peter Singer
Peter Singer is Ira W. DeCamp Professor of Bioethics at the University Center for Human Values at Princeton University as well as Laureate Professor in the School of Historical and Philosophical Studies at the University of Melbourne.
He is the co-founder of The Life You Can Save, a nonprofit devoted to spreading ideas about why we should be doing much more to improve the lives of people living in extreme poverty.
Interviews with Peter Singer
The nineteenth century saw not only a widespread interest in philosophical ideas but also philosophy's development as a more rigorous discipline. Australian philosopher Peter Singer introduces us to the highlights of a century of philosophy books.
Interviews where books by Peter Singer were recommended