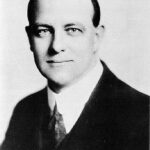 P. G. Wodehouse
Sir Pelham Grenville Wodehouse (P. G. Wodehouse) was a 20th century humorist author.
P. G. Wodehouse remains so well loved because of his enduring characters and inimitable style, says Sophie Ratcliffe, associate professor of English at Oxford University who chooses his best books. She also recommends reading his autobiography which is included in Wodehouse on Wodehouse and she had edited a collection of his letters PG Wodehouse.
"One of the things, apart from what I've already mentioned, that makes them so good and so time-proof is the clockwork precision of the plots." Philip Pullman, who selected the Jeeves and Wooster stories in his five favourite books.
Interviews where books by P. G. Wodehouse were recommended