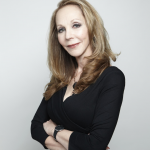 Rebecca Goldstein
Rebecca Newberger Goldstein graduated from Columbia University, receiving the Montague Prize for Excellence in Philosophy and receiving her PhD in philosophy from Princeton University. While in graduate school she was awarded a National Science Foundation Fellowship and a Whiting Foundation Fellowship. Goldstein is a MacArthur Fellow and has received the National Humanities Medal, the National Jewish Book Award, and numerous other honours.
Books by Rebecca Goldstein
Interviews with Rebecca Goldstein
The skills of a philosopher and those of a novelist are often in tension, but they have much to learn from each other, says novelist and philosopher Rebecca Newberger Goldstein. She chooses her favourite philosophical novels.
Baruch Spinoza thought reason could do it all, but experience tells us otherwise. Philosopher Rebecca Goldstein recommends both the books that made the best case for reason—and the most successful critiques.
Interviews where books by Rebecca Goldstein were recommended
The main reason for the survival of religion is not a desire to live a better life, but our fear of death, says atheist author and independent scholar Susan Jacoby. Here she recommends five books she considers essential to "understanding the merits of atheism."
Books by Rebecca Goldstein