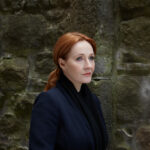 Robert Galbraith
Robert Galbraith is the pseudonym of the British author Joanne (J.K.) Rowling. Following the huge success of her Harry Potter series, her first novel for adults, The Casual Vacancy, was an instant bestseller. However, she was keen for her books to be judged on their own merit and when she started writing a crime fiction series, she hid her identity by adopting the name Robert Galbraith. The books feature Cormoran Strike, a British Afghan war vet who returns to London and sets up a detective agency.
At Five Books, we take crime novels seriously, and the Cormoran Strike books are highly recommended for anyone who is into the genre. The tricks to keep you guessing or the surprise about 'whodunnit' are not quite as mind-boggling as Agatha Christie, but perhaps more realistic. The plotting is solid and satisfying, and doesn't grate like in all too many contemporary crime novels.
However, it's the characters and their interaction that make the Robert Galbraith/Cormoran Strike books so enjoyable to read. They're very real. You can move with them around London and the UK, sympathizing with their trials and tribulations. As happens in the Harry Potter series, the characters appear, and then gradually, as the series progresses, their backstory is fleshed out and Galbraith/Rowling makes them more complicated and you want to know what happens to them next.
We've listed the Robert Galbraith/Cormoran Strike books in order below. They're also excellent to listen to as audiobooks, narrated by the British actor Robert Glenister.
Books by Robert Galbraith
Books by Robert Galbraith