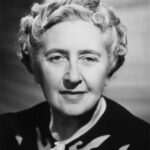 Agatha Christie
Agatha Christie (1890-1976) was an English writer of mystery books who perfected the art of the twisty plot and remains the bestselling novelist of all time. Her books include 66 mysteries and 14 short story collections and she also wrote the world's longest-running play, The Mousetrap.
We asked her only grandson, Mathew Prichard—who spent decades managing her literary estate—to recommend the best Agatha Christie books to us. Her books have also been recommended across a range of interviews on Five Books, with many modern writers of mystery and crime including her books among their favourites. Agatha Christie's memoir, based on her trips to the Middle East with her archaeologist husband, Max Mallowan, is also highly recommended.
The novel Agatha Christie herself was most proud of was Crooked House.
Last year (2022) saw new Miss Marple mysteries being published: a book of short stories by some of today's most popular mystery writers, as well as a new Agatha Christie biography by Lucy Worsley.
Interviews where books by Agatha Christie were recommended