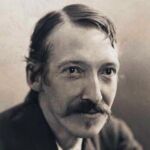 Books by Robert Louis Stevenson
"Being Scottish, it's one I can read again and again. I think the difference between the Lowland Scot and the Highlander is really brought out between Alan Breck and David Balfour. It's very well written, very well done – and I think Robert Louis Stevenson has great charm. He's very hard on marriage, you know. He seems to be rather sour about marriage, but not in this book." Read more...
M C Beaton, Thriller and Crime Writer
"Lots and lots of people know the phrase, that 'Jekyll and Hyde' means a split personality: good on one side, evil on the other. They might even have seen one or two film adaptations of the book. But I think one of the things that would surprise folk who haven't read the original book, first of all, is that it's very short. It's a novella, only about 150 pages long, yet it's dealing with such amazingly deep themes." Read more...
Landmarks of Scottish Literature
James Robertson, Novelist
Interviews where books by Robert Louis Stevenson were recommended