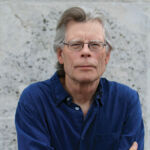 Stephen King
Stephen King is an American author known around the world for his horror stories, many of which have been turned into terrifying films. Carrie was his first published novel (and enabled him to leave teaching and become a full-time writer), The Shining remains his bestselling book. It's also been recommended on Five Books by other novelists as a major inspiration for their own writing.
However, while Stephen King is probably the greatest living writer in the horror book genre and his new novels, in a variety of genres, continue to entertain and absorb readers, it's his memoir, On Writing, that is absolutely unmissable. It's impossible not to be deeply moved by his story and his struggles, and his determination to carry on writing, despite rejection after rejection, an inspiration for all of us. That the book might also improve your writing skills is a nice side benefit.
On The Late Show with Stephen Colbert Stephen King revealed his own five favourite Stephen King books: the short story "Survivor Type" which appears in the Skeleton Crew collection, Misery, Lisey's Story, The Stand (his 1978 novel about a mutated flu strain that wipes out almost all of humanity) and The Body.
Below, you'll find all the novelists, critics and teachers of creative writing who have been inspired by Stephen King, which books of his they recommend and why:
Interviews where books by Stephen King were recommended