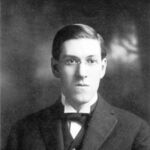 H. P. Lovecraft
Howard Phillips Lovecraft  (1890 – 1937) was an American writer of science fiction and horror books.
"I know that for some people Lovecraft might be scarier for his racism… I think Lovecraft was a master of suspense, among other things." Xavier Aldana Reyes on the scariest books.
Books by H. P. Lovecraft
A short story first published in the pulp magazine Weird Tales in 1928, HP Lovecraft's deranged tale has become a centrepiece in horror fantasy of the slime-covered, otherworldly kind. Cthulhu, "a monster of vaguely anthropoid outline, but with an octopus-like head whose face was a mass of feelers, a scaly, rubbery-looking body," is said to be so terrible to behold that it destroys the sanity of those who see it. Lovecraft's phantasmagorical vision established an entire Cthulhu Mythos and inspired everyone from Stephen King to Neil Gaiman, and Alan Moore. In the figures of the Demogorgon, the Mindflayer and even Vecna himself, you can see the tentacles of this myth extending into the subconscious of the Duffer Brothers, the creators of Stranger Things. If you liked Stranger Things, you're going to love the books of HP Lovecraft.
From our article Books like Stranger Things
"I know that for some people Lovecraft might be scarier for his racism. Some people have even argued that his racist discourse is one of the things that filters through the way he writes about the alien Other. These are very valid points, and certainly explain his complex reception, with his profile gradually rising from obscurity to recognition and then to disdain. Ultimately, the message in his stories is that the human does not matter … For me, his writing really creates tension and shock. I think Lovecraft was a master of suspense, among other things" Read more...
Xavier Aldana Reyes, Film Critics & Scholar
"The Lovecraft stories that I really love are these ones that some people call the Dreamland Cycle; about worlds that you enter through dreams. But even within these worlds, people say: don't push too much against the boundaries of what you're permitted to see, so there's still that sense of prohibition. You have to be absolutely certain you can cope; so it's always about how much disillusion of your sense of reality can you deal with in these worlds? How far can you go before you say: actually I'd quite like things to be normal? In the end we don't like to lose our entire identity and humanity." Read more...
The best books on Parallel Worlds
Joanna Kavenna, Novelist
Interviews where books by H. P. Lovecraft were recommended
The highly respected author who has held fellowships at both Oxford and Cambridge universities discusses books that focus on parallel realities. Comes up with some great lesser-known must-read fiction
Whether you're scared most by graphic body horror, the uncategorisable, or the blurring of boundaries between supernatural menace and psychological unraveling, this list will have something for you. Reflecting on the complex nature of fear, Xavier Aldana Reyes surveys the best modern horror and explores whether the genre might offer consolation as well as terror.