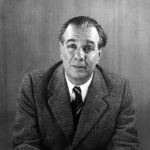 Jorge Luis Borges
Jorge Francisco Isidoro Luis Borges Acevedo (1899 – 1986) was an Argentine short story writer.
"I don't think there will ever be a better writer on uncertainty and science than Borges." Kate Marvel.
"He wrote about the world and from a global perspective at a time, pre-internet, when it was difficult to do.' Mohsin Hamid.
Books by Jorge Luis Borges
Interviews where books by Jorge Luis Borges were recommended
Books by Jorge Luis Borges