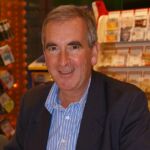 Robert Harris
Robert Dennis Harris (born 7 March 1957) is a British writer mainly known for works of historical fiction.
Interviews where books by Robert Harris were recommended
Director of Liberty Shami Chakrabarti says Harry Potter and the Order of the Phoenix is a thinly veiled metaphor for the War on Terror
The bestselling author tells us how his other job as a political journalist helps with thriller writing, and what makes le Carré, Forsyth and Buchan such masters of their trade
Caesar, Cicero, Achilles, Socrates, Plato: millennia later, we still talk about them. Olly Murphy, classics teacher at Wycombe Abbey, one of England's top girls' schools, recommends books and explains why classics remains one of the most exciting subjects for teenagers to study.