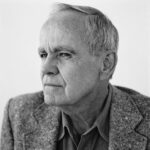 Cormac McCarthy
Cormac McCarthy, who died on June 13th, 2023 at the age of 89, was a titan of literary fiction, celebrated for his philosophical, violent, often deeply moving novels. Our interview about McCarthy's novels is with Stacey Peebles, a professor at Centre College and editor of The Cormac McCarthy Journal.
"The most famous award he received early on is the MacArthur Fellowship, which essentially allowed him to continue in the process of writing Blood Meridian. It was not until 2006 that he won a Pulitzer for The Road…1992 was the big turning point in his career, since that's when he published All the Pretty Horses and that was the first bestseller. He published five novels before that, but each one sold fewer than 5,000 copies. So he was kind of scraping by."
After a publishing hiatus of 16 years, Cormac McCarthy had a duo of psychological thrillers out in 2022: The Passenger & Stella Maris.
Interviews where books by Cormac McCarthy were recommended