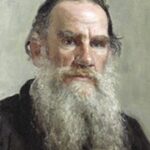 Leo Tolstoy
Leo Tolstoy, the 19th century Russian novelist who wrote—among others—the books War and Peace and Anna Karenina, is generally considered one of the greatest novelists of all time.
Born Count Lev Nikolayevich Tolstoy in Tula, Russia, Leo Tolstoy first came to literary attention with the publication of a trilogy of autobiographical books (Childhood, Boyhood and Youth) while he was still in his twenties. The young Tolstoy served as an officer in the Crimean War, an experience that greatly disturbed him and profoundly changed his emotional and political outlook; his later works are notable for the realistic portrayals of Russian daily life and the horrors of war.
English speakers hoping to read Tolstoy's masterpiece War and Peace for the first time are recommended to consult our brief interview with Rosamund Bartlett, where she talks us through the various translations of War and Peace, and what their strengths and weaknesses are considered to be. Bartlett herself translated the Oxford World Classics edition of Anna Karenina.
Interviews where books by Leo Tolstoy were recommended