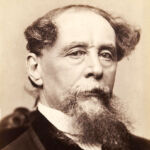 Charles Dickens
Charles Dickens died on 9 June 1870, but 150 years on from his death, the characters he created in his novels remain some of the most memorable and vivid in the whole of English literature. His characters, as Jenny Hartley puts it, like the characters of very few other writers, "step out of the novel and roam the world". Hartley chooses her Best Charles Dickens Books, two novels, his letters, a biography and some criticism and discusses his place in English literature, and his works' relationship with Victorian society and with his own life.
Robert Douglas-Fairhurst, professor of English literature at Oxford, looks at Dickens and Christmas and how the author contributed to the modern culture of Christmas, not just through A Christmas Carol, but through his other writings.
Illustrative of the breadth of Dickens' popularity and appeal is not just that A Tale of Two Cities is one of our most widely recommended books, but that it has been chosen to illustrate The Best Books on Progressive America, Bestsellers, Life in Iraq During Invasion and A World Without Poverty. It's testimony to the fact that Charles Dickens's books remain relevant to today's readers.
Interviews where books by Charles Dickens were recommended